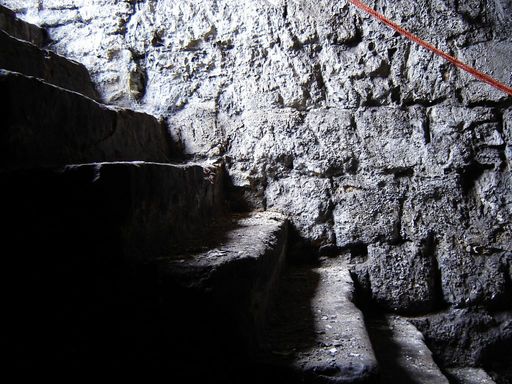 I was born in the little village Bloemendaal in the province North-Holland of the Netherlands. But I only lived there for about two months. My grandparents were lucky to buy a little house over there in which they managed to store the whole family. But with me entering the grounds of the manor, a critical mass was reached. I can not remember anything of the first three years in the town of Zaandam. So I am not able to tell anything noteworthy. After those years we moved to Haarlem.
After a rather stormy school career, which did not supply a happy end, I came to the conclusion I really wished to create stuff. Something they actually did not teach me in school nor at home. So there was just one option left: I let myself be retrained to bench fitter. First I went to the vocational school of the Dutch railway services (NS), which have a big workshop in Haarlem, facilitating maintenance of passengers transport material. They taught me a awful lot over there. After finishing this education, I also had a welding training in Geleen.
When I were 24, I thought it was time to cut all my ties with Haarlem, so I moved to the deep south of the Netherlands. As thus I hitchhiked to Maastricht. I found a roof and shelter in squat. So I could make a new step in my life.
After a short period of working in a little shipyard doing repair on river boats, I became unemployed. At the same time the world economy fell through it's hoofs, so a real lot of metal workers in the region became unemployed. As thus, with my very limited work experience, I was not really attractive for employers. I then decided I had to create my own work experience. Luckily I could rent a little bit of space, with walls made out of board carton where I could work. Hot in summer, cold in winter but with enough supply of fresh air. Which is a absolute big plus when one welds a lot.
On those 10 square meters in the old spaghetti factory of Maastricht I helped a choice of people with the realization of there, sometimes strange and absurd projects. Limmy Scheres I helped with the construction of façade ornament. With Ines den Rooijen I did various projects and erected several constructions, or else we launched them in the local canal. The ill-famed iron guitars of Ray Moon were born in the spaghetti factory. For Desiree Palmen I made a sit construction. The ultimate cubicles of Oscar Creemers were wrought by me out of steel plate. In this way I helped lots more of people in the execution of their plans.
At the same time I started to create my own ideas. At first because I myself wished to have nice and beautiful stuff at home while I had no money to buy it. But when I finished "Without Title 1", I found out it was just a bit too big for my very small room, which measured a 10 square meters. So I had to think something else. But I then begot a taste for creating.
Meanwhile I also had various little and temporary jobs as bench fitter/welder. A solid appointment was shear impossible in the metal industry and the arrival of loads of cheap Eastern-European workers did not improve this situation. The periods when I were in a situation of "in between jobs" , I used to challenge myself in the making of new stuff which was not only creative but also technically demanding. This resulted in a nice collection.
I was able to do my first exhibition at B92 at the Boschstraat in Maastricht (nowadays B32). I could place my things in the garden. This was a place where my sculptures came very well in to their own. The agreement was that the artist who did a exhibition were responsible for opening up the gallery and being on watch.
As the weather was really nice in those days, I put a chair on the street in the front with a canteen of coffee and a nice book waiting for the hordes of art loving public. Soon I noticed that to for a whole lot of people it was just a bit to challenging to enter the perimeters of this squat. A furtive glance in to the window they dared, but stepping over the door step was a bit too much. So I had to help them a bit by telling them:"You really should take a look inside." Never before they had had so many visitors in the gallery.
In 2005 I came to the conclusion that my artistic career was running into walls:
First of all, Holland is not the best environment for my art. That is nothing to be dramatic about, but it makes things slightly more difficult. Especially in reaching my public when it actually does not live around the corner. Further on, exhibiting is an enormous heap of work; towing and carrying all the stuff to one place and another. If that does not result in anything concrete, then that is just a bit a shame of all the energy put in.
Second of all, many people think my work would look lovely in the garden. But unfortunately it is not fit to remain outside for long periods, as the material is not

weatherproo

f. Above all weatherproof material is found very seldom on

scrapheap's

and is rather costly.
So I decided, in accordance with my urge for independency, that I could better become my own Maecenas. To reach this little goal, it would be most helpful to put in a bit more of education on my resume. That is why I moved over to The Hague and registered for the part time higher vocational technical education on the Rotterdam technical university.
This education chewed a few big holes in my available spare time, I had various jobs. It actually means one has for at least three years no weekend, as these are already filled up with doing home work. But it was worth every drop of effort. I learned a whole lot of new techniques. I am now the proud owner of a 3D-printer and I am investigating the possibilities of 3d-scanning and 3d-moddeling. This will hopefully result in a lot of new work in the near future.
Last summer the spaghetti factory has ceased its resistance against the ongoing rage of renewal and progress and also nature, whose teetth were chewing on the fundaments of the factory. Once there grew a bog land on the flat roofs of the spaghetti factory.
Profound renovation and renewal plans take place on those grounds. They have to lead to a new luxury living quarters for who can afford it. This was the reason I had to evacuate my cellar. Luckily I found a new place, where I can start a new phase. The future lays ahead of me.
As thus, The Hague 12 June 2015
Litle note: for recent updates, please visit my blog https://www.catweazlemagic.nl/blog.html